Dancehall
Dancehall je styl pouličního tance, který pochází z karibského ostrova Jamajka. Byl převážně interpretován v dancehallové hudbě a vyvinul se jako součást dancehall kultury. Zahrnuje širokou škálu kroků se "specifickými" jmény, které jsou ovlivněny jamajským způsobem života. Lidová (folková) forma dancehallu se nejprve objevila v pozdních osmdesátých letech dvacátého století a byla populární díky sólovým tanečníkům a crew v Kingstonu (hlavní město na Jamajce). Dancehall je prostředek sebevyjádření…
Miroslava Nováková aka Meera
Je česká dancehall tanečnice a organizátorka pocházející z Prahy. V roce 2005 začala jako hip-hopová tanečnice, než si uvědomila, že dancehall je to pravé.
Meera se aktivně věnuje dancehallu od roku 2014, od kdy se pravidelně vzdělává na dancehallových mezinárodních akcích a workshopech.
Pravidelně také navštěvuje Jamajku, kde kromě vzdělávání spolupracuje s jamajskými artisty (Sanjay, Shelly Belly, Godzilla Boss, Richie Stephens a další).
V České republice konkrétně v Praze, vyučuje dancehall od roku 2017. Meera u nás také pořádá mezinárodní taneční akce s jamajskými tanečníky. Její největší dancehallový projekt je kemp "Wah gwaan Prague?", jehož první ročník proběhl v červenci 2019.
Meera je také první českou manažerkou, která jamajskému tanečníkovi uspořádala celou Evropskou tour.
V roce 2020 se můžete těšit na organizaci tří tour v podání Meery a jejího týmu. První z nich bude probíhat od března, jedná se o evropskou taneční tour old/middle schoolového tanečníka Boysieho Rosese.
Meera Style Exclusive Booking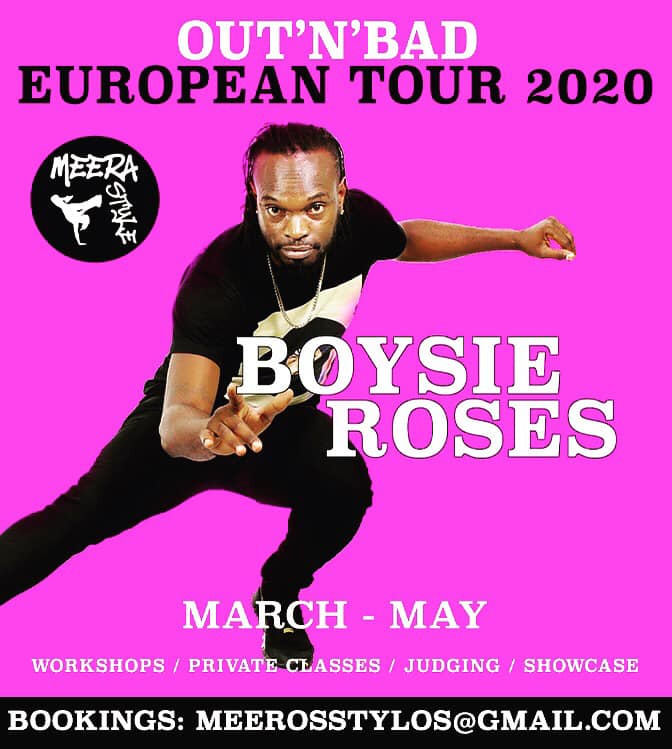 BOYSIE ROSES
OUT'N'BAD EUROPEAN TOUR 2020
March – May 2020
About Boysie
Boysie Roses was born in Kingston, Jamaica, in the Jungle community of Arnett Gardens. He found his passion for dance at the age of 13 when the legendary dancer and originator of Dancehall, Gerald "Bogle" Levy, invited Boysie to accompany him to a party after seeing his skills and finesse on the football (soccer) field in their community. It was there that he recalled having his first real experience of the Dancehall Nightlife / Lifestyle and instantly fell in love. After that night he did not miss another 'dancehall night' at the club. This chapter of his life served as an indirect training period for him as a Dancehall Dancer, where he learned all of Bogle steps, slangs and expressions. From there, Boysie won numerous award for dancing and became inseparable from Bogle. In 2004, Bogle invited Boysie to tour with him all around Jamaica and the USA as dancers with the hottest artistes at the time; Voicemail, Bounty Killa, and Elephant Man. In 2005 when Bogle passed away, there was a halt in Boysie's dance career, he was devastated, not only because he lost a friend and dance-brother but he also feared his life as 3 Black Roses Members were already targeted and murdered. He considered the best way to recuperate was to spend some time outside of Jamaica, where he would be far away from the violence. He returned to Jamaica about a year later and very slowly immersed himself back into the dancehall. Now Boysie passionately teaches "old school" dancehall in Jamaica and abroad, offering his students the first hand history and legacy of himself and Bogle. Every class/workshop with Boysie takes students back to those founding days of dancehall; with the original steps, his signature robust energy and excitement, and first hand stories that will give you insight into dancehall's conception which will give you the foundation and inspiration to take your dancing to the next level.
booking now!
Workshops | Private classes | Judging | Showcase
SARA BENDII
BADDER THAN BAD EUROPEAN TOUR 2020
June – July 2020
About Sara
Sara was born on the 8 th of November 1992. Her real name is Sarafina Smith, artist name "Sara Bendii" some persons know her like Sara Jackhammer. She has been dancing 3 consistent years now, but before she get there she was a cheerleader from 2010-2012. It was 2 good years worth of experienced because she's learnt a lot! Her team won a lot of competitions. They were one of the biggest team in Jamaica. They were called Elite Odyssey. She judged regional twice and it was also a major experience. After two years she's worked with companies like Grace Kennedy, Flow and Digicel (danced). In 2012 she joined the dance group "Jackhammergirls" they normally practice like three times a week, they entered competitions like taste talent trail and on the verge. Sara decided she wanted to give it a break because they auditioned for flow where there were a lot of dancers, like all the dancers in the industry right now…
She had to leave because she hate to pretend when she's not comfortable. She left her first group there "Jackhammergirls" and left to work at the Norman Manley International Airtport. She is a diligent worker and a very flexible one but people tend to take advantages of that wherever she go for work, so that was a major challenge she had to face out there as an employer. She had to stand up for herself. Two years after she decided she was over that job so she left. Jackhammer girls were working in St James Montego Bay in 2015 at that time doing entertainment for a company call Street Generation. She told them she would love to be apart of that entertainment group being that she hasn't been around them or danced with them a while now. They got the job for her, but the experience wasn't good. The boss of the company tried had her working for free, tried to brainwash, lied etc. She won't elaborate on that company. It was just a bad experience for Sara, because they wanted to use her. She stayed there for 1 year and pull through with the girls. After a year they came back to Kingston. Abby Jackhammer who was the founder of the group left the island so everybody got demotivated and decided they wanted do their own thing. In August 2016 Sara decided to open an instagram account and start dancing from there to promote herself. Her first challenge on instagram was "popdat " created by DHQheadtop. She posted it on her page and because of her large amount of followers it gave her a buzz on her page. The challenge after that was "slapitup " created by dhqtallup, she posted in on her page where she got more followers, so she target challenges to put herself out there as a dancer so people will see her. Her first competition on instagram was on vershon song call "wet" she think that's the name, she came second. Her second competition was on realdejour song call "proper fuck" she came second in that competition because she was competing with DHQ Latesha. She did another competition and she came first at last and she have done many more competitions after that and came first none stop, grateful. After a year wining competitions doing challenges and dancing in music videos with artist like Beenie Man, Razor B, Rtadax and couple other artist, Kimiko discovered her page and asked her to do a gig with an artist call Rree official and another dancer call Tara Therebel.
That was her first stage performance. Weeks after, Kimiko Versatile linked her again about a video shoot for Razor B with couple other dancers. After a week passed she formed a group with us call "Versatileones". Some of the old members got kicked now, they have some new gorgeous members.
They did a lot of shoots, stage performances and all. They did their videos to promote the group, so person can book us as a group also, their first promo video was their Valentines
video. She still love it till today. They got a lot of forward for that video, they did Neyo and stefflondon challenged "push back" you have vybez Kartel "underwater" potaranking
"unavailable" Busy Signal "pree diss" and a lot! more… Their most recent was "clout" with cardib and offset and "already by Beyoncé and Shattawale. As a member of the group and herself in last year they have done a lot! They worked with
"Jason Derulo" song call "shutupanddance" biggest shoot! Vybez Kartel "won't work" They did Beyoncé's video when she came here, loctane "gal a bruck back" and "hot world
"shenseea "instruction" and "secret" Charley Black, D Angel, Macka Diamond, Jameil, Jahvillani "rubberband, Buju "nuh trust phone, uptopboss "baller" Elephant man "find it"
and "skankers" and a lot more. They performed for a company call NHT twice and between that She teached her classes when she is booked for it. She's never teached more than 7 but She'll get passed that. She is doing her videos in the
most professional way as well as she is still learning, so she'll do her best for 2020. Sara never been outside Jamaica for dancing. She's gotten that approached multiple times
but there was a barrier she guess not sure what it was, but soon SARA WILL BE FOR THE FIRST TIME OUT OF JAMAICA, FIRST TIME IN EUROPE. BOOK HER NOW!!!
booking now!
Workshops | Private classes | Judging | Showcase